When we visited Cebu City, our purpose was a combination of business and pleasure. It was our first time in Cebu, so our main goal of course was to visit historical sites and other popular tourists attractions. I had some business meetings to attend in Cebu City, which is why I opted to look for accommodations right in the heart of the city. The hotel I chose was Harold's Hotel Cebu, a moderately sized 3-star business hotel. We stayed here for three days and two nights, and it was very well-spent.
One thing I noticed is that the hotels in Cebu City and Mandaue City are less expensive as compared to equivalent hotels in Metro Manila. I'm not saying they are cheap, but you can find 3-star and 4-star hotels that are half or two-thirds of the price of similar hotels in MM. This made Cebu so much inviting for me.
First Impressions During Check-In: Nice & Quick
---
We went there during peak season (on the month of May, no less) so I can safely assume that the rates at Harold's Hotel Cebu at that time were the highest all year round (except for the Iron Man season). I booked one of their Deluxe Rooms through Booking.com. The price was P3,600 for two people and one infant, with breakfast included. Click here if you want to check the current price per room at Harold's Hotel. The price for me is very reasonable for a business hotel like this.
When we arrived, we were automatically given welcome drinks and allowed to relax at the lobby. Check-in was pretty quick. Even though check-in was supposed to be at 2pm, we were allowed early check-in since our rooms were already available. We checked in at 12 noon, which was pretty awesome.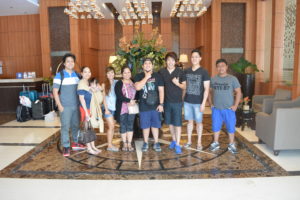 If there are two of you staying in one room, ask for another key card. The elevators are card activated and will only allow you to stop at your floor and the rooftop, which is where the Highlights Lounge is located.
We were provided just one key card on our first day so when I had to go up and down several times while leaving my husband in the room, I had to ask their staff to punch my floor because I don't have a card. When the sup noticed that I had to do this several times, that's when she told her front desk staff to give me another card, which was a relief. It would have been so much easier if they gave us two cards at the beginning, but oh well. Also, since I had to visit other floors for our meetings, I asked them to add clearance to my card for those floors.
Room Impression: Large and Comfy
---
So yeah after check-in, we immediately went to our room to freshen up. We also waited for our luggage to be delivered, which was fast anyway. As is usual in hotels of this type, coffee and bottled water are readily available. The mini-bar is stocked with light snacks with a price list. The usual toiletries plus two pairs of rubber slippers were available. They also have a safe if you'd like to store some valuables. Our laptop and camera wouldn't fit though, so we pretty much didn't use it.
The carpeted room was very spacious; however the air conditioning dripped on the carpet, causing a funky smell. The smell quickly faded away though so we didn't bother with it. The layout of my friend's room was different from ours (the air conditioning was positioned differently) so she didn't have any issue like that. Our bathroom was equipped with a rain-shower and bathtub, which my five-month old thoroughly enjoyed.
The room was clean and the bed was very comfy. We had Wifi access which was great, but it was only limited to two devices. If you have more than two devices (we had four!), you can call the reception and ask for additional allocation for your room. We told them how many devices need to connect to the internet and they readily added spots for us without question and without additional charge.
It was funny actually because my friend was staying solo in her room so I thought, hey what the heck, let's use her extra allocation. So we logged in using her room number as password. Little did we know that our Australian delegates were thinking the same thing. So in the end, my friend was booted out of her own Wifi and had to call reception! Good thing they were so accommodating! Anyway, the speed was consistent and fast, which is a huge plus.
The Food: Love it!
---
We definitely enjoyed the food at their lobby restaurant called H-Café. The buffet breakfast at Harold's Hotel Cebu which was already included in the accommodation was great. They have a wide selection of sausages, various egg preparations and other trademark Filipino dishes. They also have cereals, muffins, pancakes and lots of fresh fruits. Tip: You can request for danggit and bacon from the staff. These will be cooked crisp and fresh at no extra charge, which is a huge plus for me!
Our Australian friends super loved the breakfast that even when I was discussing serious matters with them, they completely ignored me and had to ask me several times what I was talking about! It was very funny, but at the same time it gave an impression that this buffet breakfast was really good, specially with their international tastes.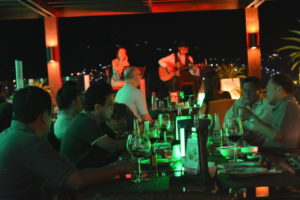 We also had in-room dining for when we were too busy. There sandwiches delicious and affordable. We asked for two cups of coffee, but they upgraded it to a pot of coffee free of charge. Awesome!
Harold's Hotel has a restaurant and bar located at the rooftop of the hotel, called Highlights Lounge. Pardon me for not taking photos of any of the food we had because I'm not really used to taking photos of the food we eat. (I guess it's something I have to be reminded of every time since I'm blogging about it, LOL!) Anyway, the barbeque and their pizza was amazing. The prices were average, a person's complete meal, including drinks and dessert, can range from P400 to P800, which wasn't bad at all.
The Business Aspect: A Nightmare!
---
What disappointed me the most is when it comes to booking conference rooms. We were supposed to have a business room or conference room reserved, but there was an issue with the reservation. The reservations officer told me that they reserved a room for us, but it wasn't "confirmed reservation". I don't know what the hell is the difference, especially since I already talked to this reservations officer and told me our room was reserved.
Then I was given the excuse that the officer who was supposed to call me back resigned from his position a day before and no one was able to handle my reservation. It was a very lame excuse!!! This gave me a headache because I only found out the night before our business meetings. I stayed up until midnight asking the hotel staff to look for an alternative. To say that I was pissed off is an understatement.
Now, I had another room reserved for two more team members coming on the day of our business meetings. What the management did was upgrade the room to a large one, and then provided us with a whiteboard and a marker, which was at the very least what we needed. This was my only issue with Harold's Hotel. Otherwise, it could've been perfect!
The People: Best Feature of the Hotel
---
Except for what I experienced with the reservations officer, all the staff and crew of Harold's Hotel are pretty awesome. They are always all smiles and greets you every time. The bellboys are always fast and ready to assist. They will quickly ask you if there's anything you need: a taxi, a drink? They didn't look like they were expecting any tips when providing service, which is a big deal for me. (Which was why we gave one of them P300 before we left)
Room service was great too. My son had a poop accident in bed so our sheets were smelly and had a little stain (no matter how little, I cannot force myself to lie on it!). We called for a change of sheets in the afternoon, and they obliged without asking questions. I pretty much watched the guy changed the entire linen, and he did so quickly and efficiently. He even asked if there's anything else we need before leaving.
The people at the reception were nice and easy to talk to. If we needed anything, they are quick to provide service and information. All in all, Harold's Hotel did a great job in hiring and training their people.
Harold's Hotel Rating: 4.5 out of 5 Stars
---
Even with the glitch with the business room reservation, I still loved staying at Harold's Hotel. In fact, we are even considering going back to Cebu just to have a staycation at Harold's Hotel! That's how much we loved it there. If you'd like to try them yourself, you can book
here
. Though yeah, it's still not my go-to hotel for business. How about you, have you tried this hotel? Do you have better recommendations for hotels in Cebu City? Comment below!