Ever since we moved to San Pablo City, we've been constantly looking for great places to dine. We like cooking (when we have the ingredients, which lately we don't), but we also like trying out new things.
One of the places we've been eyeing for the past few months is Reicin's Kitchen. This small burger joint is located along Balagtas Boulevard in San Pablo City. It's always closed whenever we pass by, so we were only able to try it tonight, when one of our go-to restaurants was closed. And oh boy, am I glad we did!
The Ambiance ?
One look and you know that it's a family business. Why, the restaurant is simply a converted garage. Tables lined the space, with string lights brightening the place up. It's a no-expectations restaurant. You can come here in your shorts and slippers and you wouldn't be ashamed to eat. It somehow looks like it can be a bar, but since the dining areas are just outside the family homes, it's likely that they decided not to offer alcoholic drinks to avoid scuffles so close to home.

Towards the back of the garage-slash-dining-area, it smelled a bit like dogs, which is why I opted to move to a table closer to the gate. This is the only downside for me. I don't have any qualms with eating at a converted garage as long as it's clean.
The Food ? & The Price ?
Not only was I surprised to find out that they serve more than burgers, I was more than shocked about how good the food was! We ordered Pork Ribs, Chicken Fingers and Bacon Mushroom Melt Burger.
I'm a burger person. Whenever I'm feeling down, my husband knows that one thing that would make me feel better is a great burger. Now my standard for Bacon & Mushroom Melt is the one from Wendy's. Imagine my surprise when I tasted Reicin's version. It tasted really great! The burger patty was flame-grilled and really juicy. I must admit that Wendy's is still my top choice, but this very much runs second.
For a really good burger at the price of ₱130, it's a steal!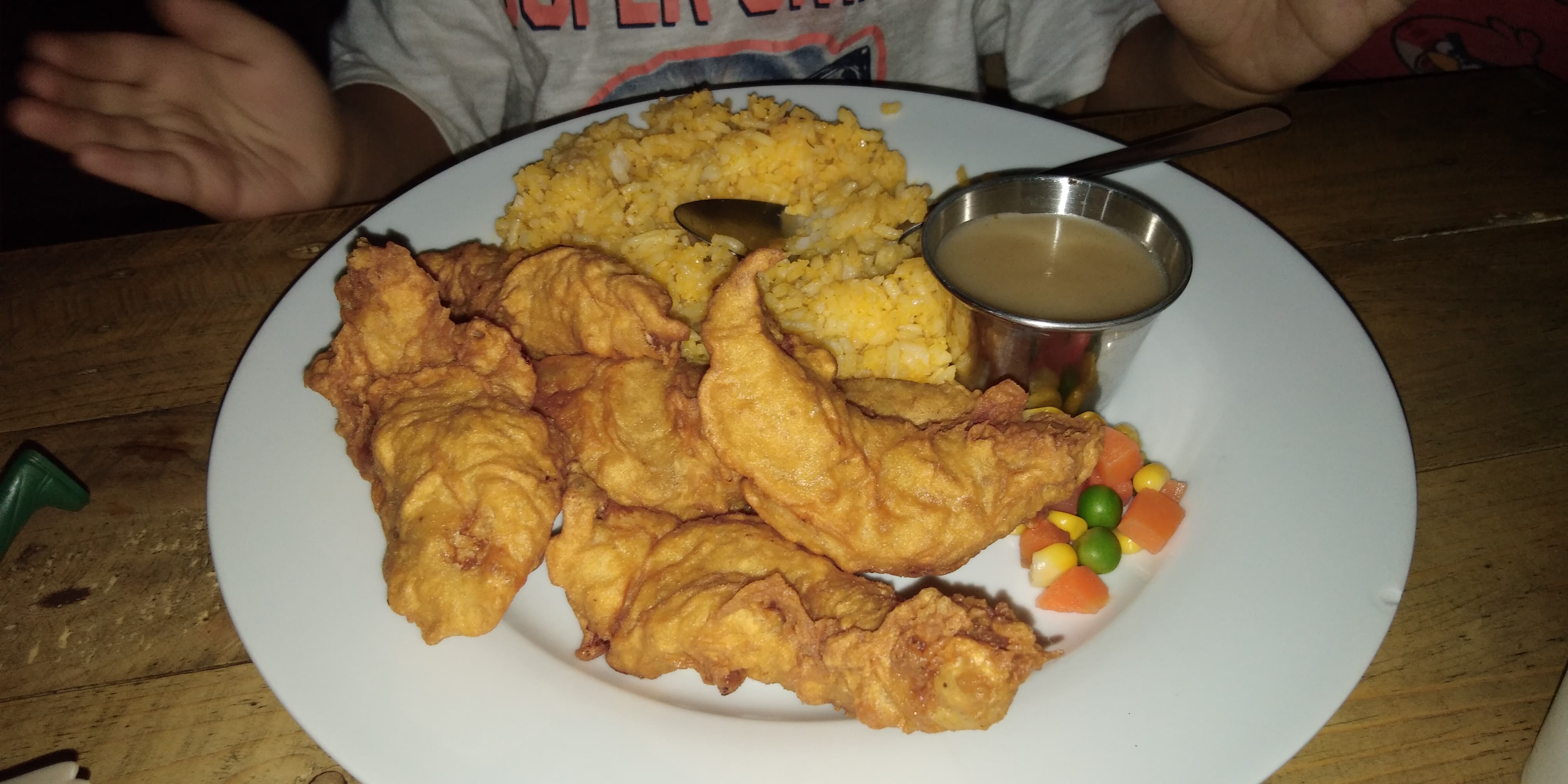 CHICKEN FINGERS MEAL FOR ₱100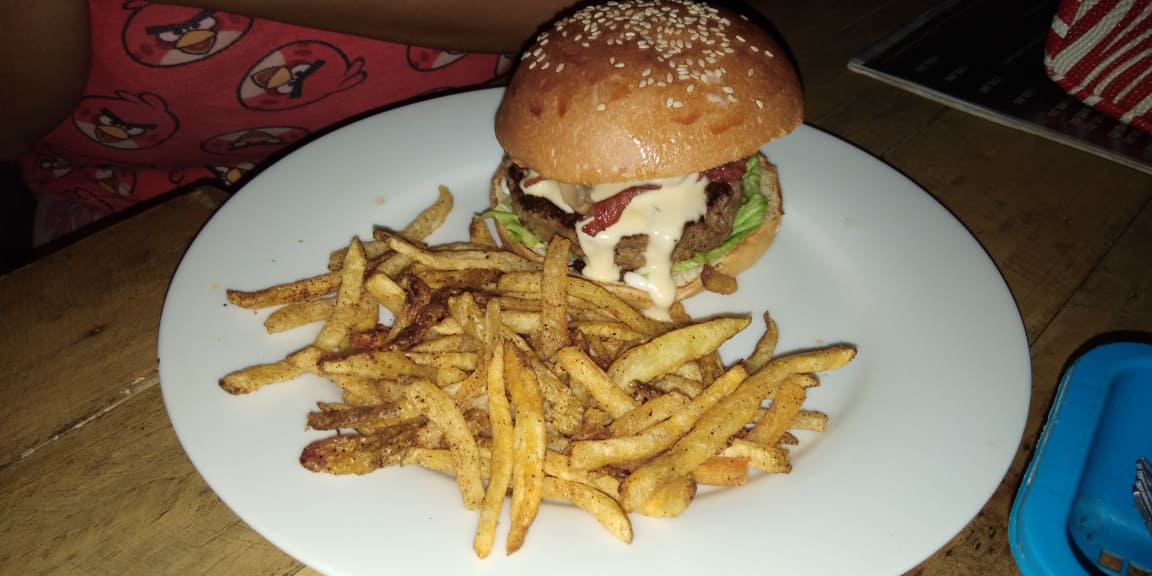 BACON MUSHROOM BURGER ₱130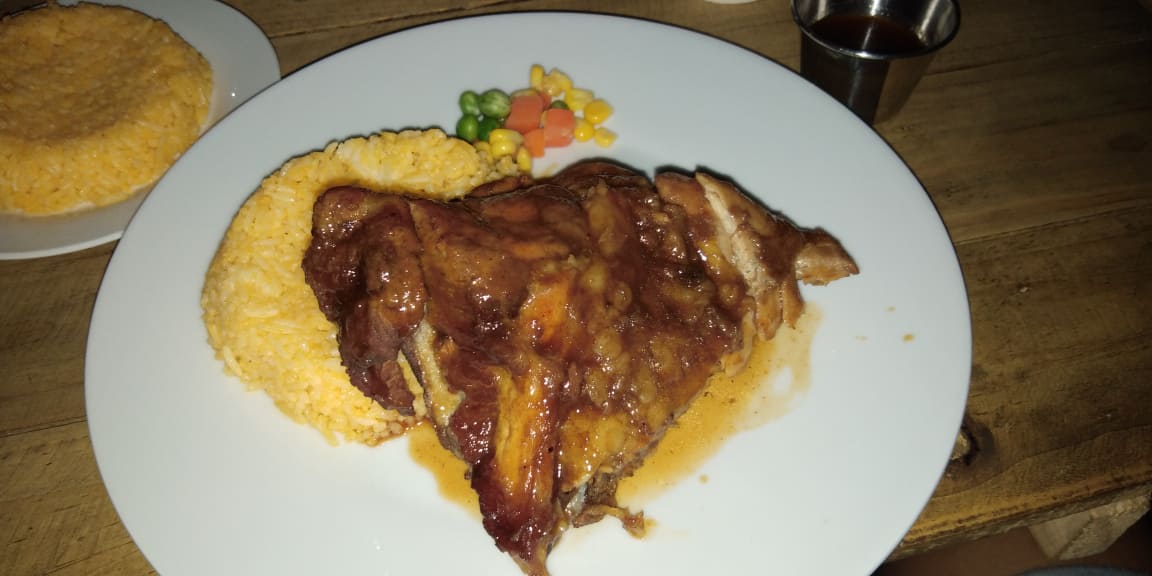 The Pork Ribs was very satisfying as well. We got what looked like a little less than half a slab for ₱250. They also offered bigger portions for ₱300 and ₱350, but we opted for the smallest one because we don't know how it would taste. It was awesome! The meat was tender, juicy and flavorful. It somehow reminded me of Perissos Ribs (also in San Pablo City, who offers a whole slab of pork ribs for ₱600). Maybe because I didn't expect much, when I took a bite, I almost cried of happiness. It was that good.
Finally, the Chicken Fingers were also good. Not the very best I've ever tasted, but it passes my standards. There were several big pieces so for the price of ₱100 (including rice and side vegetables), it's very affordable.
The Service ?
Whenever we dine out, we always expect our food to be served within 30 to 45 minutes. That's how long it takes for good food to be served. If the place is full, you can also expect a busy kitchen so the service can be slower. It's a good thing that we came at a good time. The place was around 40% capacity when we arrived (which quickly increased while we waited for our food). But by the number of people coming and going, it's really a popular place. By now, I am no longer surprised!
So our food was served around 20 minutes, and it was a fine waiting time. The service was nothing out of the ordinary. They added a ₱20 service charge to our bill, but I would have tipped more. Remember guys, waiters and the kitchen crew don't always earn enough, so make sure to leave tips if there's no service charge.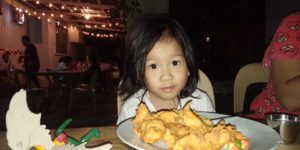 Reicin's Kitchen Rating: 4.5 Stars ?
I would have rated it 5 stars if they can eliminate the doggy smell towards the back, and if they have a place to wash hands! You're a burger place, and people usually eat their burgers using their hands. If you have this, then you're awesome in my eyes!
EDIT: They have a washroom, yey! I didn't see it at first because it was hidden among the birds (LOL), but I'm happy they at least have a place to wash hands. AND they now provide food-grade plastic gloves. Nice.
Nevertheless, you have found a loyal customer in us.
For more information on this restaurant, visit Reicin's Kitchen's Facebook Page.
(Featured image from Reicin's Kitchen's FB page)
If you're looking for a good place for staycation,why don't you try Crosswinds Resort Suites?